August 27, 2023 - September 3, 2023
La Perdix , St. Martin De Riberac, Dordogne, France
BOOKED OUT – Let me know if you'd like your name to be added to the waiting list in case of cancellation.

Please come and join me at La Perdrix, in the beautiful Dordogne area of the south-west France, from August 27th to September 3rd, for an energising and relaxing yoga retreat. The retreat is open to anyone with MS – or similar chronic health conditions- as well friends, partners and family, and we'll make sure everyone has a fantastic time.
Daily schedule
8.00 – 9.00: Yoga flow
9.00 – 10.00: Breakfast
10.00 – 12.30: Yoga Therapy, each day focusing on a specific topic (ie reducing inflammation, managing stress, improving balance, cognitive issues etc.)
13.00 – 17.00: Lunch & time off
17.00 – 18.00: Breathwork
18.00 – 19.00: Meditation
19.00: Dinner
TESTIMONIAL: 'What's really brilliant is that Véronique gives a whole range of potential ways to engage with the pose whatever level you're at. She's hugely encouraging' (Cath)
'The biggest takeaway would be about pushing yourself beyond what you think you can do, what you think you can achieve. I'll take confidence from it. (Pam)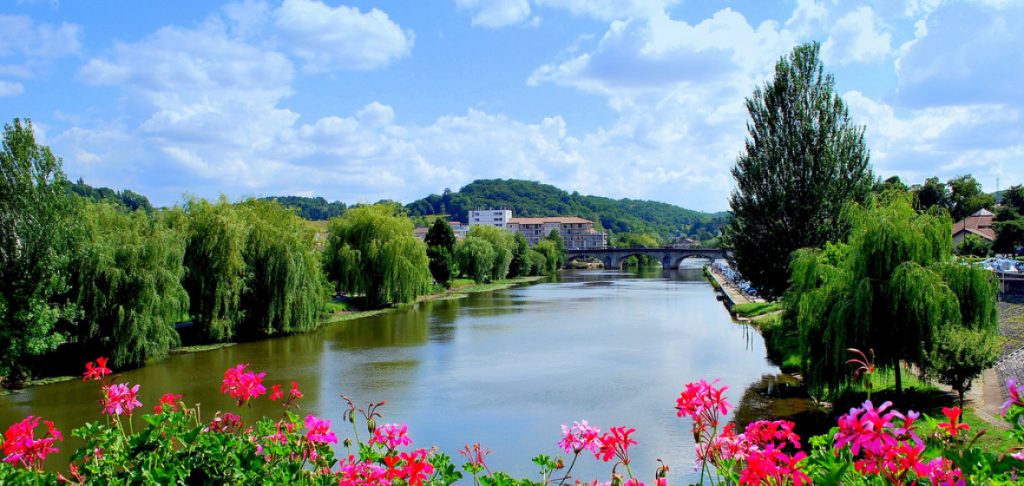 Free Time
During your free time, you can get to know each other, read by the pool, or go for a walk. This is time off with benefits!
Both Johnny and Ingrid (the owners of La Perdrix) are absolutely amazing and organised lots of events last year. We tried Paddle Board, went for a swim in the river, made pottery, visited the local market..
TESTIMONIALS: 'It's been amazing to meet people who are like-minded, who are adventurous and who have got optimism (…) to keep us going' (Liz)
'We came all the way from Minnesota, so we made it a vacation, and he (my husband) has enjoyed it throughly because he has learnt so much about what he can do with his breathing' (Barb)
The Venue
La Perdrix is a gated private property on the edge of the village of St Martin de Ribérac in the beautiful Dordogne area of south west France. Originally built as a 13th Century Monastery, the property has undergone many transformations over the centuries but has maintained much of its original features and historic charm.
Note that there are steps in the house and it is not accessible to wheelchair users or people with a walking aid.
TESTIMONIAL: 'I've been here 13 times. This place is magical. A lot always happens around the table, sitting hours on end, eating and getting to know each other (…) and the weather is generally amazing' (Catherine)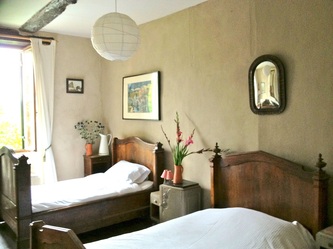 Sponsoring
CANCELLED
Even though we're trying to make our Yoga retreat as accessible financially as possible, we're aware that it might still be difficult for some. This year we decided to raise funds via GoFundMe to allow 2 people who otherwise wouldn't be able to join, to participate.
Any donation can make a difference. Thank you.

Prices
All prices include accommodation, 3 meals daily & all yoga, breathwork & meditation classes for 7 nights from Sunday evening to Sunday morning.
Meals include breakfast, lunch and dinner (including beer/wine/juices), teas and coffees. All meals are plant-based and follow the Overcoming MS dietary recommendations.
| | | | |
| --- | --- | --- | --- |
| Accommodation Types | Deposit (to be paid before June 28th) | Balance (to be paid before July 28th) | Total to be paid |
| Single bed in twin bedroom (shared bathroom) (*) | €250 | €575 | €825 |
| One person in double bedroom (single occupancy) (shared bathroom) | €250 | €905 | €925 |
| Two persons in double bedroom (shared bathroom) (**) | €250 | €505 | €755 |
| One person in double bedroom (ensuite) SOLD OUT | €250 | €730 | €980 |
* Price is per person. Room with two single beds – so will be shared.
** The price is per person sharing a bed

How to Pay
Before booking a place, please email me at [email protected] to make sure the retreat is adapted to your needs.
When we confirm the availability of your accommodation option by return email, please pay a deposit of €250 (per person) before June 28th. Payment of the balance is due by July 28th.
No Paypal payment. Only bank transfer.
Cancellation policy
If you are unable to attend the retreat due to force majeure, we will either refund to you the full amount paid (deposit and final balance) minus a €50 administration fee, or if you prefer we can transfer your payments to another of Véronique's events.
Getting there
The nearest airport is Bergerac airport which is a 45 min drive from the property this airport uses Ryanair which flies from Bristol, London, Liverpool, East Midlands and Flybe has good connections throughout Europe. It is a small airport and therefore pleasant and speedy to travel through. For more information on flights, times and prices look at the following website http://www.bergerac-airport.net/
Bordeaux airport is a 1 hour and 20 minute drive and also connects with European central hubs with both budget and mainline carriers. There is a train from Bordeaux to Mussidan which is 20 minutes from the venue.
Please note transfer from the airport to the venue is not included in the price but we will try, if you wish, to organise shared taxis etc.
Questions
Don't hesitate to contact me on [email protected] if you have any other question.
I'm so looking forward to seeing you there and to have an amazing week, starting on August 28th.