July 7, 2024 - July 13, 2024
La Perdix , St. Martin De Riberac, Dordogne, France

Please come and join us at La Perdrix, in the beautiful Dordogne area of the south-west France, from July 7th to 13th (Sunday 5pm to Saturday 10 am), for an active yoga holiday, full of fun and activities. You'll practice yoga, meditation and Breathwork but you'll also have the chance to go swimming in a local river, kayak on a lake, walk around the local weekly market, under the expert guidance of the amazing Ingrid. And you will also enjoy Jonny´s plant-based & vegetarian food!
Note that this is NOT specifically for people living with MS. If you'd like to spend a week exploring how to manage specific health issues and symptoms (such as balance issue, spasticity, fatigue, etc), please consider joining a retreat in Portugal instead.
Testimonials

What's really brilliant is that Veronique gives a whole range of potential ways to engage with the pose, whatever level you are at. She is hugely encouraging. (Cath R.)

I´ve been here 13 times. This place is magical. A lot always happens around the table, sitting hours on end, eating and getting to know each other… and the weather is usually amazing. (Catherine F.)
Timetable
8.30 – 9.00: Meditation (option to go for a run before!)

9.00 – 10.00: Breakfast

10.00 – 12.30: Dynamic Yoga. Each day will focus on a specific topic, such as forward folds, backbends, inversions, arm balances etc.
Every session includes a warm up, breathwork, various asanas (yoga poses) to explore, and play with. The atmosphere is relaxed and playful.

13.00 – 14.00: Lunch

14:00 – 17:00: Activities, such as river swimming, kayaking, paddle board, running or simply relaxing by the pool with a good book or chatting with friends…

17.00 – 19.00: Breathwork, Restorative Yoga & Yoga Nidra, depending on the mood and your needs

19.00: Dinner, and a lot of chatting and laughter!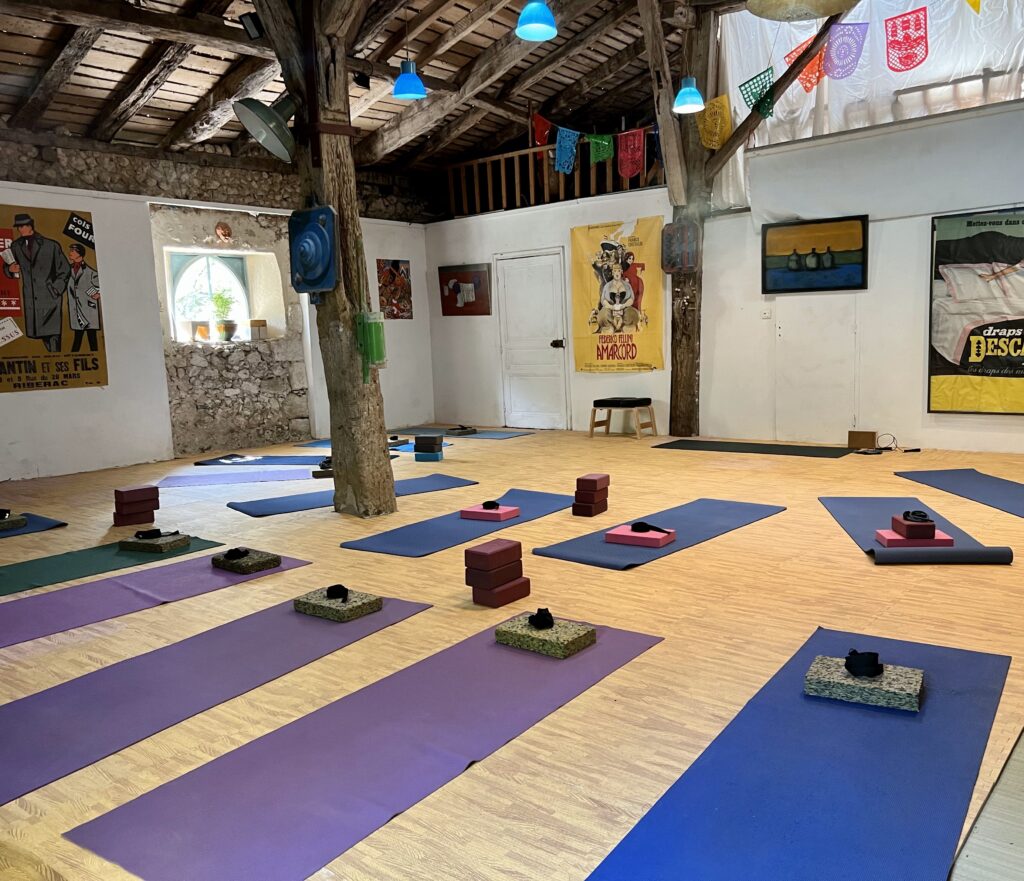 The location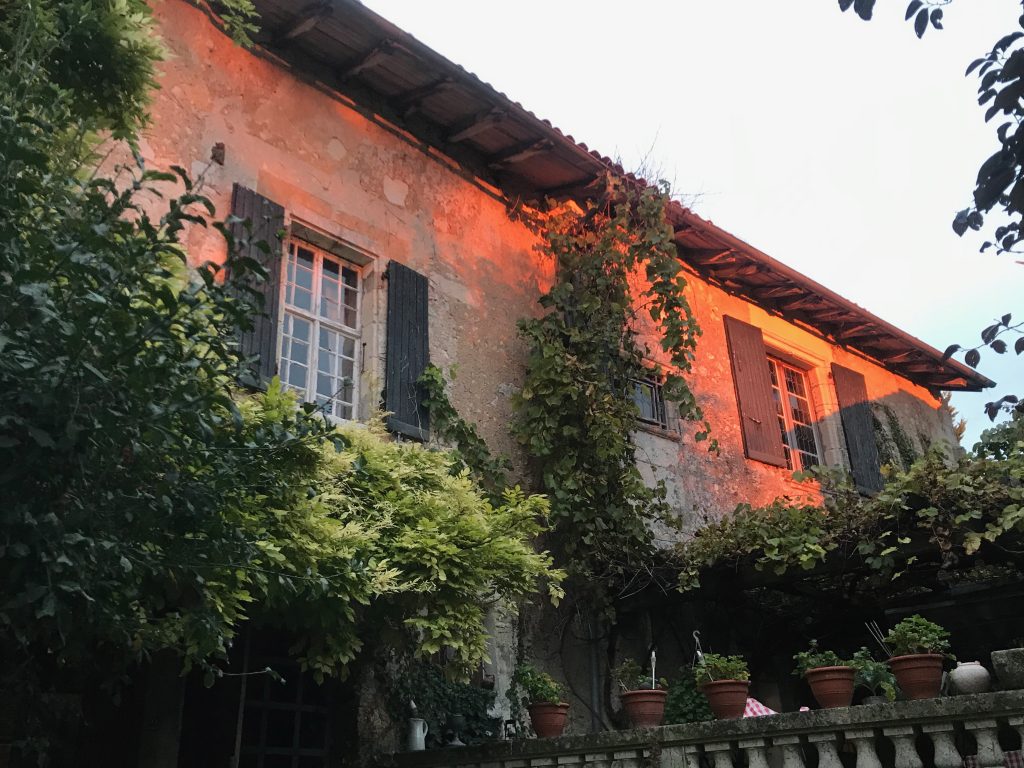 La Perdrix is a gated private property on the edge of the village of St Martin de Riberac in the beautiful Dordogne area of south west France. Originally built as a 13th Century Monastery, the property has undergone many transformations over the centuries but has maintained much of it's original features and historic charm.
Ingrid and Jonny have trawled the local brocantes and markets to find the furniture and art that best compliment the style and character of the property. The garden is rambling. It's an ideal place to swing in a hammock listening to the birdsong, or watch the night sky from the swimming pool. La Perdrix isn't grand , it's a little ramshackle but it's rustic and true.
Getting There
The nearest airport is Bergerac airport which is a 45 min drive from the property this airport uses Ryanair which flies from Bristol, London, Liverpool, East Midlands and Flybe carriers and has good connections throughout Europe, it is a small airport and therefore pleasant and speedy to travel through.
Bordeaux airport is a 1 hour and 20 minute drive and also connects with European central hubs with both budget and mainline carriers.
There is also a train station at Mussidan, which is about 20 minutes from La Perdrix.
We can organise transfer from and to the airport (price not included above).
How to pay
Before booking, please email me at tamingthewalrus@gmail.com to check availability and to make sure this retreat is adapted to your needs.
When we confirm the availability of your accommodation option by return email, please pay the deposit to secure your spot. We would appreciate if you can pay the deposit by February 29th and the balance by April 30th. Note that the retreat usually sells out very quickly.
The following prices include accommodation, food (breakfast, lunch & dinner), tea and coffee, yoga, meditation, Breathwork and all the activities including kayak rentals and transfer to the different locations, from Sunday 5 pm to Saturday 10 am. You can pay either in euro or pounds.

Deposit
Balance
Total
Sharing twin room, per person
€300
£260

€535
£463

€835
£723

Couple sharing double bed, per person
€300
£260
€465
£402
€765
£662
Single occupancy of double bedroom
€300
£260
€635
£550
€935
£810
Single occupancy of ensuite room
€300
£260

€730
£632

€1,030
£892

Couple sharing ensuite room, per person
€300
£260
€515
£440
€815
£700
Note that all the rooms have a shared bathroom (one bathroom for two bedrooms) except the ensuite room.
Cancellation policy
If you are unable to attend the retreat due to a force majeure, we will either send a refund minus €50 administration fee or we will transfer your payment to another of Veronique's events.